2802 Southwest Blvd.
(325) 224-TANS
Monday - Friday
8:30am - 7:00pm
Saturday
10:00am - 5:00pm
Sunday
1:00pm- 4:pm
(Southwest Location ONLY)
We will follow SAISD's weather schedule. If schools are closed or delayed, Elite Physique will be also. Please check our Facebook page for the most up-to-date information.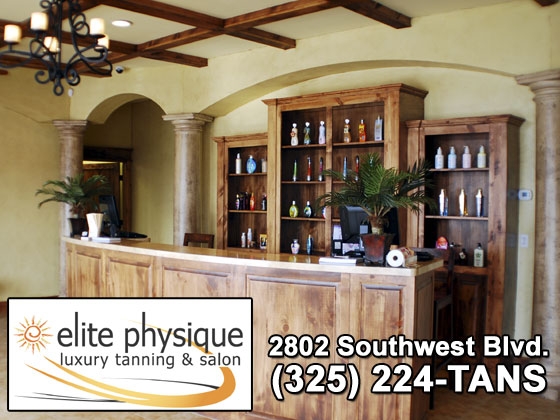 ---

Our newest location at 2802 Southwest Boulevard offers innovative tanning technology. Offering a wide variety of extras, from a German engineered Multi-vision bed that allows you to watch your favorite TV shows while your tan, to an aromatherapy misting bed that wraps you in cool comfort while you tan. Our level 5 beds incorporate shoulder tanners and ergonomic rear lifts to bronze the hard to tan areas.


---
Level 1



Santa Barbara Bed

The best from the best! TanAmerica is proud to offer the Santa Barbara. This high quality system is designed to deliver an outstanding luxury tanning experience. This bed offers a cd/radio system with speakers above your head for listening pleasure.

(32) 100 watt reflector bulbs; 15 minute tan time
---
Level 2

Pacifica Bed

Raising the Bar! The Pacifica 12 minute tan system will meet your tanning expectations for an upgrade experience. Luxurious and uncompromising comfort, the 39 lamp Pacifica features a combination of (36)120/100 watt reflector lamps and (3)400 watt facials that will excite everyone. This bed gives you a beautiful bronze color.


Ambition 250


Engineered with perfect results in mind, the Ambition 250 – with its combination of Super Power UV lamps and high-pressure facials – is loaded with tanning power to spare. It keeps clients feeling fresh during the tanning session with the Comfort Cooling ventilation system. The Ambition 250 features the Body Curve extended tanning surface for added comfort and tanning results. It softly supports while positioning you perfectly for an even distribution of UV light.

(32) 120 watt bulbs; 3 facial tanners
---
Level 3

SolarForce 652 V Stand-Up

This stand-up bed will tan you in 9 minutes! If you are short on time, or you want to even out tan lines, this bed is for you. It's open doors allow people of any size to tan. It offers 2 meter lamps for head to toe tanning.

(52) 220 watt bulbs; 9 minute tan time
---
Level 4

SS755

This amazing 10 minute bed is a novice tanners dream. This bed is very user-friendly. A in-bed digital display shows the time and the bed features. It has 10 shoulder tanners and 5 facial tanners. If you want a large roomy tanning bed that produces amazing color, this bed is perfect for you!

(55) 220 watt bulbs, 10 shoulder tanners, 5 facial tanners; 10 minute tan time

Affinity 800 w/ Aquamist Aromotherapy

With 51 Turbo Power 160-watt UV lamps,
4 Ultra Performance 520-watt facial tanners, a reflector neck tanner and shoulder tanner, the Affinity 800 offers the most powerful tanning performance of the series. Along with power, this top model is also setting the standard in terms of comfort.

The wide Body Shape acrylic provides a relaxing tanning position while the clear layout of the control panel ensures the simplest operation. The Temptronic function keeps your desired temperature constant throughout the entire tanning session. With just the simple press of a button, the Aqua Mist/Aromatherapy functions dispense a refreshing spray over the face and body and also work in harmony to neutralize the typical UV fragrance.

(51) 160 watt bulbs, 4 facial tanners, reflective shoulder and neck tanner; 12 minuter tan time





Excellence 880

The Excellence 880 sets new standards in advanced UV technology. Featuring the Ultra Performance facial tanner system, combining an optimized glass reflector with specially coated filter glass, 35% more UV output is achieved for deeper tans. With its double-bend base acrylic, the Excellence 880 cradles you in complete comfort in virtually any position. Whether refreshingly cool or pleasantly warm, the Temptronic system keeps the temperature shown on the LED display constant throughout the tanning session. This bed also offers a voice guide to help you. It explains each function of the tanning bed to you and tells you what is happening at every stage. The Excellence 880 also features an infrared interface as standard equipment. The Excellence 880 also offers the revolutionary Multivision with 3D-Sound. You can watch TV and select their favorite channel!

(51) 160 bulbs, 4 facial tanners, shoulder & neck tanners; 12 minute tan time
---
Level 5

Solarix X2

Step into first class! This high-pressure bed will give you the perfect tan in 12 minutes. This high pressure bed produces only enough UV/B rays to produce the melanin required to tan and a lot of UV/A rays to oxidize that melanin and turn it a golden brown. Most beds require you to maintain your tan a few times a week, where this bed only required a visit once a week to maintain your tan. You can build a base tan in 1 to 3 tan sessions with this bed. Equipped with MP3,cd/radio, and surround sound.

(33) High Pressure tanning bulbs
---
VersaPro Sunless Tanning

Next generation spray technology delivers consistent spray application to ensure a flawless tan every time.
Heated Sunless System pampers users with comforatable, spa-like experience.
Height Sensor Technology ensures pinpoint accuracy and full coverage for all body types.
Built-in intelligence literally talks customers through the sunless tanning experience with voice guided instructions.
Endless customization options, with 4 solutions and color levels that range from a hint of color to a deep rich dark bronze, meeting all skin types and desired results.

With the NEW VersPro, The Future of Sunless Tanning is here.